To take photo's of really fast events, you need a very short duration flash. A normal camera flash lasts about 1-3 milliseconds at full power. These pictures were taken using a home built microsecond flash, a thousand times faster.
Example: a bullet travels at 1000 feet per second (305 m/s), so in 1 millisecond it would be blurred out to a 1 feet (305 mm) long blur. Using a microsecond flash, the blur would be 1/1000 of a feet or 0.3 mm.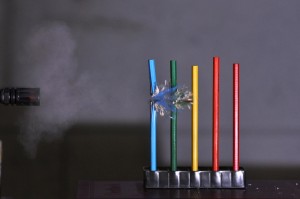 The air-gap flash was built from readily available scavenged and new electronic components, very similar to the EG&G MicroFlash 549.
The flash was triggered by an Arduino microprocessor with user selectable delay of about 1 millisecond using a piezo microphone to detect the shot.
Main inspiration/information for (and warning against) building a similar flash unit can be found here.